All water and environmental projects require an accurate physical, chemical and biological analyzes and measurements. The analyzing of water (rain water, surface water, groundwater, tap water, etc.), soils, rocks and plants requires special measuring equipment and standardized methods.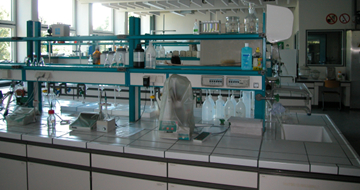 KRIETER WATER & ENVIRONMENT is a first-hand consultant of soil and water laboratories. Depending on requirements, amount of samples, budget and level of ambition we develop tailor made and detailed plans of measuring equipments, methods from and their management.
The following important parameters should considered to be analyzed:
1. Laboratory of soil physics, soil hydrology
– density
– granulometric/soil texture analysis
– pore size distribution
– soil structure, aggregate stability
– permeability
– key parameters of soil water budget (infiltration, storage/field capacity, percolation,.etc)
2. Laboratory of soil chemistry
– pH, conductivity, carbonate content
– organic mass content, humus content, C/N ratio
– buffering capacity, cation exchange capacity, redox characteristic
– nutrient requirement, supply and availability
3. Laboratory of water physics and chemistry
– pH, conductivity, organic content, radioactivity, age of water
– redox potential, buffering capacity
– isotope contents/relations (age, origin, tracer)
– cation and anion contents
– heavy metal content
– nutrient and pesticide content.